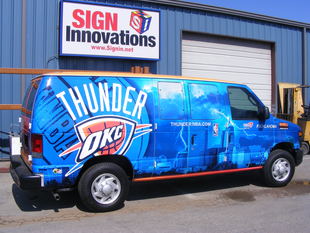 Vehicle Wraps are moving billboards and we are constantly educating customers on ways to maximize their exposure to the marketplace. You vehicle can be placed at large events that draw large masses of people. In Oklahoma City we have the Chesapeake Energy Arena. When our local NBA basketball team "The Thunder" play a home game, we encourage our vehicle wrap clients to place their vehicles as close to the main building as possible. 20,000 attendees will frequent those types of events in one evening!
Some other great marketing tips are to :
Place business cards under the windshield wipers and between the rubber gasket and side windows. Why not let your advertising dollars go to work for you.

If you are interested in a car wrap contact us today!